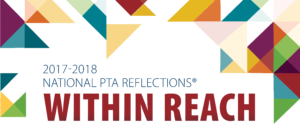 2017 PTA Reflections Art Program Theme:
"Within Reach"
Deadline for submissions is October 27th, 2017.
The arts—and National PTA Reflections—support student success and serve as a valuable tool for engaging families and building strong partnerships in the school community. Founded in 1969, Reflections engages nearly 300,000 students and their families in arts education activities each year by encouraging students to explore the arts for fun and recognition.
Pre-Kindergarten through grade 12 students are encouraged to submit original works of art in one or more of the six areas listed below. Only original works of art are accepted. Students may enter one piece in as many arts areas as they wish to participate in, from the following six categories:
Literature
Photography
Dance Choreography
Musical Composition
Visual arts
Film Production
Each art area has specific guidelines. To receive guidelines and entry form, either email Uthra (uthra.srinivasan@gmail.com) or Kiran (kiranrg6@gmail.com).You can also fill out request for entry online.